A BRIEF HISTORY
Its hard to imagine a time before the Gallowglass, but of course this was but a new name for the "Mc Garrs". Paddy Mc Garr started that famous Ceilidhe Band in or about 1950. The band got its name from the Gallóglaigh, mercenary soldiers who came into Northern Ireland from Scotland. It is also the name of an Irish Jig. Paddy started on a right note and composed the "Gallowglass Polka". This was the signature tune for the E.S.B – sponsored programme at 8 a.m on Radio Eireann in the '50s.
Things were beginning to happen in Ireland in the early '50s. Carnival craze was creeping in. Marquees were going up in every small town in the country. Before long the Gallowglass is travelling the length and breadth of Ireland. The competition is mighty. Ceilidhe and old time. At least two nights of every week Carnival. Bands like Malachy Sweeney, The Assaroe, Fitzgerald's, Aughrim Slopes, Tulla, Kilfenora and Ballinakill Ceilidhe Band are all around but the Gallowglass is gaining popularity on them all. Dances were timed 9 p.m to 2 or 3 a.m. Admission 3/6d. Barn dances, polkas, sets, Siege of Ennis, Walls of Limerick, Stack of Barley.
The Band entered The Ceili Band Section of the Hohner Accordion Championships and won it in 1953, 1954 and 1955.The Gallowglass now had eight members – 7 musicians and a singer. Pat McGarr played accordion, Chris Connolly 2nd accordion, Peggy Keogh on fiddle, Mick Dempsey on saxophone, Davy Scott was the drummer. Jim McGarr on bass and Séan Keogh on piano. Patricia Duffy was the vocalist.
The band played in Leeds in 1957, they were brought over for the weekend by a Wicklow man called Mark Donnelly. They then started their trips to Scotland. By this time the Scottish bands were coming over here to play and the Gallowglass toured Ireland with them. In 1956 they played with Jimmy Shand and this started a long standing music relationship and friendship. The federation of Musicians (Ireland) wouldn't allow foreign bands to play here if an Irish band didn't accompany them. From the Scottish bands they got to know Mr. Phil Solomons and he became their manager. Mr. Solomons brought Norrie Paramour over to listen to the band in Lawlors Ballroom, Naas. This led to making their first record. That was in 1957, for "Colombia" and the location was St.Anthony's Hall, Merchant's Quay, Dublin.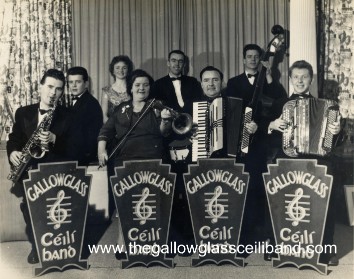 While the band is getting more popular abroad, especially in England and Scotland, the Irish dancers are not being neglected. They played in Dublin regularly, in The Irish Club, Tir na Nóg, Barry's Hotel, The National and in Belfast's King's Hall, Opera House and Ulster Hall. They did a series for UTV called "For a Fiddle and a Flute". This was with Frank Carson, Teresa Duffy, Gertie Wyne, Peter Tomelty and the Gus Smith Dancers. They were in the top tam ratings for a while.
After a while the United States bckoned and the "Gallowglass" paid its first of four visits in 1960. It was the first Irish band to play "Carnegie Hall". That was March 16th and on St.Patrick's Night they were in "City Centre Ballroom". These venues were in New York where they played many more but also Boston, Philadelphia and Chicago.
They often finished a Ceilidhe in New York, snatched a few hours sleep and then drove 900 miles to Chicago. This was non – stop except for food stops at "Howard Johnson's". They also very often flew from U.S to Shannon and then on to Heathrow. They rarely had a night off. They played the "Albert Hall" 3 times, the "De Montford", Leicester, where Ruby Murray and Joe Lynch were appearing the same night. They played at the "Irishman's Association" dinner dance in the Grand Hotel, Manchester, where Matt Busby was guest of honour.
The Gallowglass has more than 20 L.P.s to its credit and a video was made a number of years ago when the band had a re-union in Hotel Keadeen.